State Board authorizes DSC to offer baccalaureate nursing degree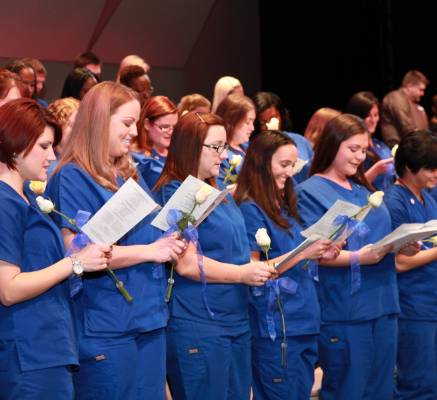 DAYTONA BEACH, Fla. (Sept. 17, 2013) - Daytona State College will begin offering a Bachelor of Science in Nursing (BSN) degree starting in January 2014. The State Board of Education today approved the college's bid to offer the program, which will provide licensed registered nurses in Volusia and Flagler counties a new pathway with the BSN credential.
The program will be offered on the college's Daytona Beach Campus, with clinical components at six area hospitals.
Independent research shows a continuing shortage of BSN-credentialed nurses locally and statewide, said Dr. Linda Miles, chair of Daytona State's School of Nursing. "More than 50 percent of qualified students in Florida are turned away because of limited BSN program capacity. By offering a convenient and affordable pathway from the Associate Degree in Nursing (ADN) to the BSN degree for Volusia and Flagler County students, we are helping to meet a need that has been specifically expressed by the local health-care community."
Daytona State's BSN degree has been endorsed by the CEOs of Halifax Medical Center, Bert Fish Medical Center, Florida Hospital Memorial Medical Center, Florida Hospital DeLand, Florida Hospital Fish and Florida Hospital Flagler. Each facility serves as a clinical site for the college's nursing programs and is represented on advisory committees that have helped develop curriculum for the new BSN degree.
Daytona State President Carol W. Eaton lauded the partnerships that supported the college's new degree offering to help fill the need for BSN-credentialed nurses.
"Addressing critical workforce needs requires critical partnerships," said Dr. Eaton. "We're very grateful for the support of our District Board of Trustees, our many community leaders and our partner hospitals and universities. Each of us clearly sees the value in opening new paths for economic growth and community wellbeing. By adding Daytona State as an option for the BSN degree, we're taking another crucial step against health-care shortages in the region."
At each area hospital, approximately a quarter of the nurses possess a BSN. The CEOs surveyed indicated that efforts to achieve magnet status, the Affordable Care Act, the need to fill leadership roles, changes in health-care delivery models and a shift toward evidence-based practice will require them to increase nursing staff with BSN degrees from about 25 percent on average to 75 percent or more.
Daytona State expects to graduate at least 50 BSN-credentialed nurses annually by 2016. While average earnings for a registered nurse approach $65,000, as nurses with a BSN move through the ranks, salaries tend to increase. For example, a promotion to a management position of head nurse with a BSN has a higher salary than the floor nurse with an RN.
Daytona State's BSN program will be offered in a traditional face-to-face method. It will require students to complete 48 credit hours, in addition to the 72 credit hours required in the ADN program. BSN degrees are offered by the University of Central Florida (online program) and Bethune-Cookman University.
Students who opt for the Daytona State program will save over 30 percent on the cost of tuition compared to the most price-competitive area BSN program.
The BSN brings to 11 the number of bachelor's degrees offered by Daytona State beginning in January 2014. The State Board of Education also approved the college's bid to offer a Bachelor of Science in Information Technology degree starting in January. The college currently offers a Bachelor of Applied Science in Supervision and Management, a Bachelor of Science in Engineering Technology and seven bachelor's degrees in education.
---