Daytona State students honored at All-Florida Academic Team ceremony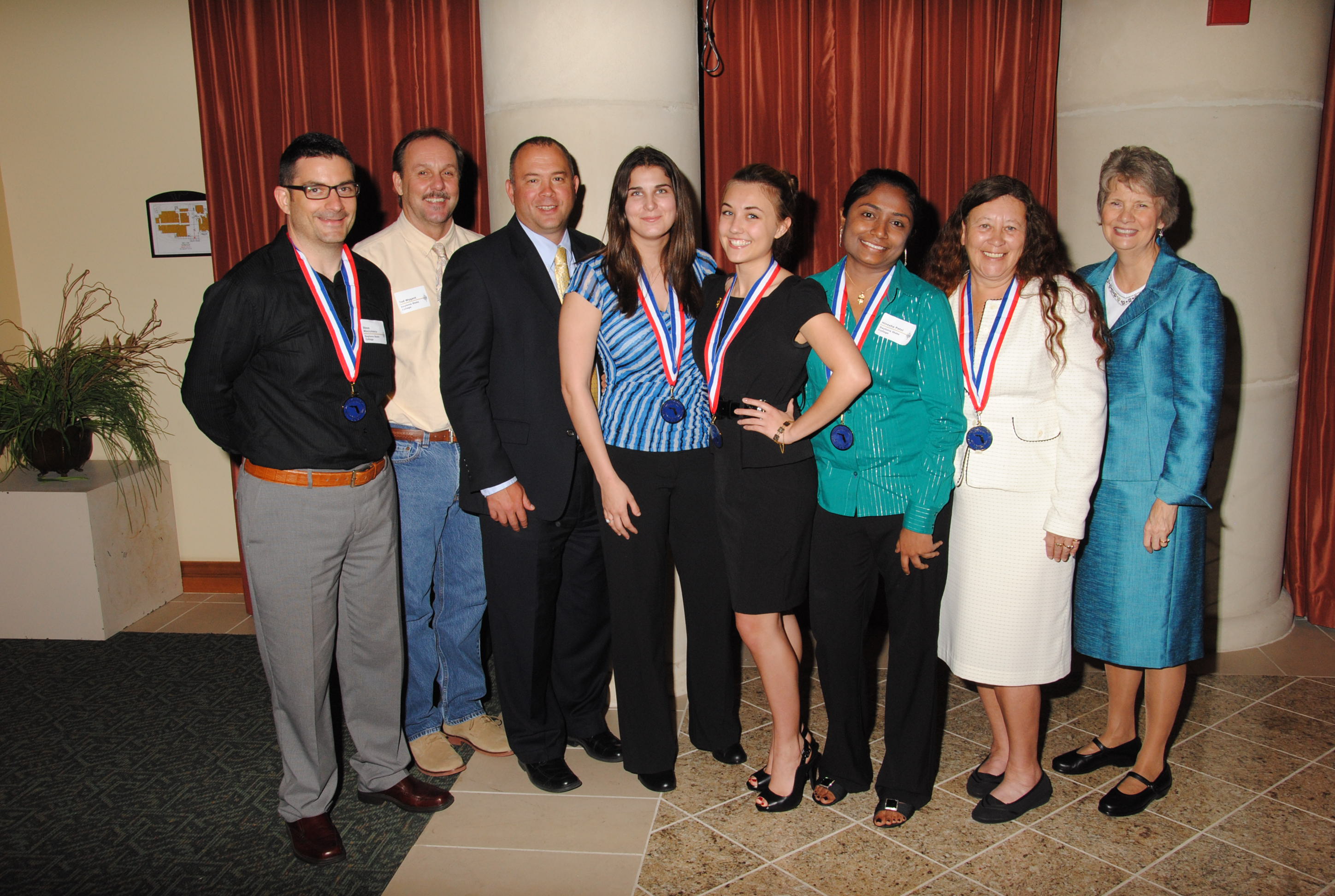 DAYTONA BEACH, Fla. (April 10, 2013) – Seven local individuals joined more than 120 top-achieving students on April 9 to officially become members of an elite group – the All-Florida Academic Team – at a ceremony hosted by Daytona State College on behalf of the Florida College System and Phi Theta Kappa (PTK) Florida Region.

One of the seven chosen from Daytona State, Jenna Zuyus will earn her associate of arts degree about the same time the home-schooled Orange City resident earns her high school diploma. As a dual-enrolled student, Zuyus has collected a bevy of feats rarely achieved by an 18 year old.

Zuyus, president of PTK at Daytona State, introduced President Carol W. Eaton for opening remarks at the luncheon event. Reflecting her PTK peers and their community efforts, Zuyus was secretary of a DSC volunteer organization focused on service and charitable work; she volunteered to aid the homeless and underprivileged families; and helped teach children's workshops at the Florida Museum of Art in DeLand. On top of that, her schoolwork netted almost straight A's and her artwork has been featured in Daytona State's student art and literary magazine.

The All-Florida Academic Team program recognizes outstanding students at Florida's state colleges, as well as institutions associated with Independent Colleges and Universities of Florida. The Academic Team is composed of students who have been nominated by their respective colleges to the All-USA Academic Team competition sponsored by USA Today and the PTK International Honor Society. Students are nominated based on their academic achievement, leadership and service to the community.
In addition to Zuyus, six other Daytona State students selected to the All-Florida Academic Team's second team are:
Brett Gernertt, New Smyrna Beach/Edgewater Campus
Samantha Gross, New Smyrna Beach/Edgewater Campus
Charlene Maine, Daytona Beach Campus
Steve Minciulescu, Flagler/Palm Coast Campus
Hinesha Patel, Daytona Beach Campus
Elizabeth Strople, Flagler/Palm Coast Campus
During the awards ceremony, Assistant Chancellor of the Florida College System Kasongo Butler pointed out how the diversity of this year's awardees embodies the mission of the Florida College System, where open access to higher education is a system hallmark.

President Eaton shared with the students her own personal experience on how PTK helped shape her life. "When I was a student at a community college, I was invited to join Phi Theta Kappa. At the time, I did not realize the significance this great organization would have on my life," she said. "But the influence of PTK has stayed with me." She noted the students each share two common characteristics. "You have changed any obstacles you have encountered into opportunities, and you have changed any challenges you have faced into choices."

Keynote speaker Dr. Edison Jackson, president of Bethune-Cookman University, encouraged the students to choose lives as servant leaders. "It's important to understand that you can help make a better society by giving back," he said.

"You are among those who will be counted on to fight the war on mediocrity that we see all around our communities, in this state and in this nation," he added. "As you earn your degrees, as you move beyond graduate school, understand that the world needs your talents, your gifts."

Preceding the ceremony, Assistant Chancellor Butler led a roundtable which she called "speed dating for business leaders and PTK students." More than a dozen local business, university and civic leaders moved from table to table answering questions posed by students and providing advice on how to pursue various career fields.

Among them was CEO of Jon Hall Ritchey Automotive Group and former Daytona Beach Mayor Glenn Ritchey Sr., who, seated across from the 18-year-old Zuyus, suggested that passion, perseverance and continuing education are keys to success.

"You are on an interesting journey at this point in your life, and along the way you will find many opportunities you don't even know about today," he said. "Be prepared."

###
Photo ID: Left to right, student Steve Minciulescu, PTK faculty advisor Ted Wygant, Thomas LoBasso/senior vice president for student development & institutional effectiveness, students Elizabeth Strople, Jenna Zuyus, Hinesha Patel, Charlene Maine and President Carol W. Eaton
Photo by Jean-Marie Appleby, Daytona State College photographer