Daytona State earns top honors in AFC marketing excellence competition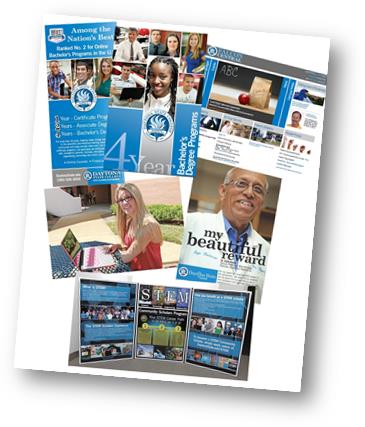 DAYTONA BEACH, Fla. (Nov. 19, 2013) - Daytona State College placed in seven categories this month in the Association of Florida Colleges (AFC) Communications and Marketing Commission's 2013 Awards of Excellence competition, including three first-place awards.
The awards were announced at the association's 64th annual convention held Nov. 13-15 in Orlando. Daytona State competed in 10 of the 31 competition categories, coming away with three first-place and three second-place awards and one third-place award.
Among the first-place winners was a series of brochures about the college's one-, two- and four-year programs, taking top honors in the Best Brochure category. The brochures, which are a useful tool for college recruiters, work as a set, covering all types of programs and completions students can earn.
The college's internal micro-site, Falcon Central, earned top honors for Best Website. This unique approach to communicate news, announcements and events to college faculty and staff on a daily basis originally launched in 2011, after Daytona State President Carol W. Eaton tasked the department with an exciting challenge to enhance internal communication at the college.
A series of innovative and inexpensive flashcards that present concise descriptions of DSC programs and services won the top award in the Best Bang for the Buck category.
Earning second-place honors in the Direct Mail Piece category was a series of postcards developed to promote Daytona State's on-campus enrollment events slated at various times throughout the year. A set of 17 posters featuring testimonials by faculty, staff and alumni as they describe what has come to be known as the "Daytona State of Mind," won second place in the Best Poster category. Taking second place in the Best Display/Presentation Board category was an eye-catching three-panel tabletop board promoting Daytona State's STEM Scholars program.
An image featured in the college's viewbook that depicts a student outdoors on campus posing with her laptop computer earned third place in the Best Photography in a Published Piece category.
More than 220 entries were received by 20 participating AFC colleges.
###