DSC building dedication honors longtime donor
DAYTONA BEACH, Fla. (Sept. 18, 2012) – A building that houses Daytona State College's education programs has a new name in honor of a longtime donor whose trust fund will ultimately give the college one of the largest gifts in its history.
Building 200 on the Daytona Beach Campus was named the George C. Nunamann Hall during a dedication ceremony Tuesday afternoon. Over the past 10 years, Nunamann's trust has donated more than $750,000 to the Daytona State College Foundation in support of student scholarships, helping 650 students to date.
Ultimately, it will provide the foundation $3.5 million when fully conveyed, Daytona State President Carol W. Eaton announced during the dedication.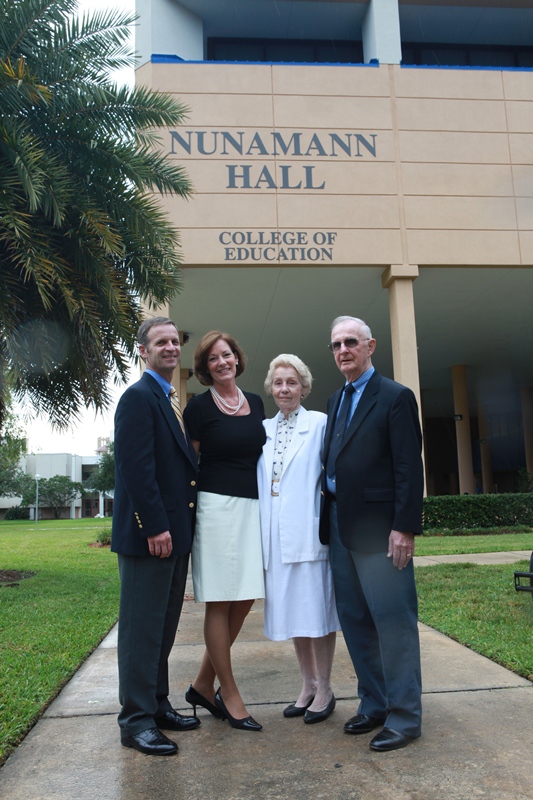 "Mr. Nunamann knew the value of higher education, and how, combined with hard work, each graduate can make a difference, both in reaching personal goals and fueling the region's economic success," Eaton said. "We are deeply honored by his generosity."
District Board of Trustees Chairman Dwight Lewis said the Nunamann Trust's gift is especially timely in light of the current recession and budget cuts that have forced public colleges to make do with less, while maintaining their mission of providing access to education for all who can benefit.
"I'm proud to be a part of Daytona State and humbled by the generosity of people like George Nunamann," Lewis said. "His example is one we can look to as we consider how to help others become more productive and successful citizens."
During the dedication, Sally Gillespie, who chairs the DSC Foundation Board of Directors, introduced Kimble Medley, who was the first in her family to attend college and among the students who received a Nunamann Trust scholarship. Medley is a 4.0 student who earned her associate of arts degree in May and plans to apply her scholarship to a Bachelor of Applied Science in Supervision and Management degree. She expressed gratitude for the Nunamann scholarship, and said it has made a huge difference in helping to defray the cost of her education.
A longtime New York banker and investor, George Nunamann retired to Daytona Beach, where for 27 years he enjoyed the climate and relaxed pace of life. In 1984, he established the trust and named members of his family its beneficiaries. He also designated Daytona State College as the beneficiary once the trust's designated family members passed away, stipulating that the college establish the George C. Nunamann Scholarship Fund to pay the tuition of students based on their academic performance and financial need.
The Nunamann family's one surviving nephew, Stephen B. Dietz Jr., was recognized during the dedication ceremony and participated in the unveiling of the building's new name.
For more information, contact the Foundation, (386) 506-3195 or foundation@DaytonaState.edu.
###
Caption: Mr. Nunamann's nephew, Stephen B. Dietz Jr. and wife, Amelia, with one of their sons, Thomas, and his wife, Susan.