Daytona State College hosts 2012 NJCAA Women's Golf Championship at LPGA International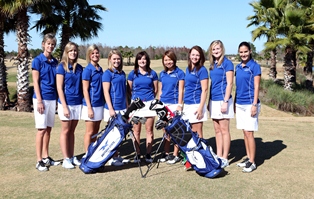 DAYTONA BEACH, FL (May 11, 2012) - A total of 115 golfers representing 36 colleges from across the United States will compete for top team and individual titles at the 2012 National Junior College Athletic Association Women's Golf Championship to be held May 14-17 at LPGA International Golf Club in Daytona Beach.

The tournament is hosted by the 2003, 2004, 2005, 2010 and 2011 National Champions, the Daytona State College Lady Falcons golf team. With two freshman players currently ranked in the top 10 of the NJCAA scoring statistics, all eyes will be on the Lady Falcons as they hope to retain the NJCAA title that they won in 2011.

Of the 36 colleges represented, 17 have full teams and there are an additional 33 individual participants.

"I think we are in store for a highly competitive week," said Lady Falcons Coach Laura Brown. "There are four or five teams that could realistically be in contention for the national title."

The Lady Falcons have six players competing in the event. Team players include Megan Garland (United Kingdom), Callie Kitchens (Tallahassee, FL), Noriko Inoue (Japan), Anna Lesher (Ashland, OH), and Erin Selfridge (Fleming Island, FL); and individual player, Kelly Miller (United Kingdom).

The official practice round takes place on Sunday, May 13, on the prestigious Legends Course. The Legends course is a signature Rees Jones golf design – par 72 – 6,154 yards.

The event is open to the public and members of the media. For more information, call (386) 506-3282. Tournament results will be posted daily on the Daytona State website at www.DaytonaState.edu.

Daytona State College is a member of the National Junior College Athletic Association and the Florida Community College Athletics Association Mid-Florida Conference. The Falcons currently compete in seven Division I NJCAA sports, including Men's and Women's Basketball, Baseball, Fast-Pitch Softball, Women's Golf and Men's and Women's Swimming and Diving. The main focus of the Daytona State Falcons athletic program is to prepare student-athletes for success in life. This is accomplished through strong academic programs and support services coupled with quality coaching and athletic facilities.
05/15/12 - Defending champ DSC 16 back at JUCO tournament

-30-