Daytona State's top chef earns prestigious American Culinary Federation honor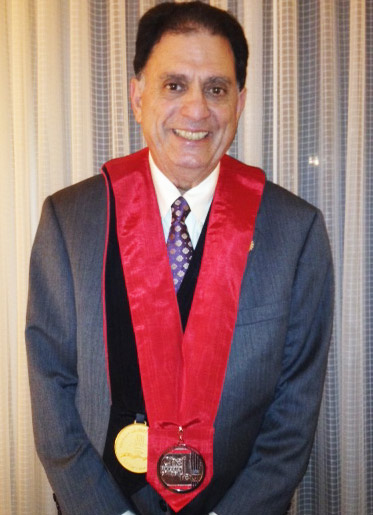 (DAYTONA BEACH, FL) February 24, 2012 - Costa Magoulas, dean of Daytona State College's School of Hospitality and Culinary Management, earned a triple play of honors this week during the American Culinary Federation's Southeast Regional Conference held in Winston-Salem, NC.

Magoulas was named ACF Southeast Region Chef Educator of the Year. Award winners from each of the federation's four regions will vie will for the national honor during ACF's National Convention in July. Magoulas also was one of four to earn the prestigious ACF Southeast Region President's Medallion, presented to members who exemplify culinary excellence and leadership and have contributed their knowledge, skills and expertise to the advancement of the culinary profession. He also added yet another accoutrement to his basket of gastronomic accolades when he won a fried rice competition sponsored by Riviana Foods.
"On behalf of the entire college community, it gives me great pleasure to extend my warm congratulations to Costa for this well-deserved honor," said Daytona State President Carol Eaton upon learning of Magoulas' award. "It is widely accepted that the quality of any institution of higher learning is measured by the eminence and dedication of its faculty, and this award is affirmation by industry professionals that Chef Magoulas and the culinary programs he manages are second to none."

The award was presented by ACF National President Michael Ty and Southeast Region Vice President Jeff Bacon during the general session of the conference. The event, which runs through tomorrow, has attracted hundreds of chefs, cooks and foodservice professionals to Winston-Salem to advance their professional development through a variety of business seminars and demonstrations of the latest culinary trends and techniques.

Chef Magoulas is a longtime ACF Certified Executive Chef. He also is one of 200 Certified Culinary Educators and one of 50 Certified Culinary Administrators in the United States. Additionally, he is a fellow of the American Academy of Chefs, the honor society of the ACF. He also is a member of the Research Chefs Association, a leading professional community for food research and development.
The ACF was established in 1929 and is the premier professional organization for culinarians in North America. With more than 20,000 members in 225 chapters nationwide, ACF is the culinary leader in offering educational resources, training, apprenticeship and programmatic accreditation both here and abroad. In addition, ACF operates the most comprehensive certification program for chefs in the United States.

Daytona State offers associate of science degrees in Hospitality Management and Culinary Management, as well as a vocational certificate in a Baking and Pastry Specialization. All programs are conducted in the Mori Hosseini College of Hospitality Management, a 62,500-square-foot, state-of-the-art facility located on the college's Daytona Beach Campus. The facility features ultra-modern kitchens, high-tech classrooms for instruction a fully functioning restaurant that is operated by students called Café 101 and other amenities that mirror real-world culinary industry environs.

For more information, please call or email Chef Magoulas at 386-506-3578, MagoulC@DaytonaState.edu.