Daytona State launches barber course for licensed cosmetologists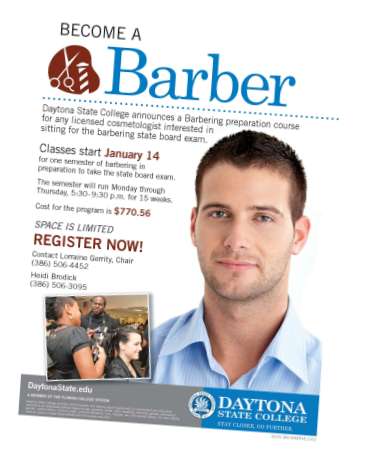 Cosmetology program opens part-time option

DAYTONA BEACH, Fla. (Nov. 27, 2012) – In response to the growing demand for licensed barbers, Daytona State College announces the addition of a barber preparation course for any licensed cosmetologist interested in sitting for the barber state board exam.

The barber course launches in January/spring semester, along with a new part-time program for cosmetology certification. The new options are designed to address heightened interest in barbering and more access to affordable high-quality cosmetology training.

"Barbering is absolutely a hot career track in the hair industry right now, and we're thrilled to be able to start this course designed for licensed cosmetologists," says cosmetology academic chair Lorraine Gerrity, who was appointed to the position in October. Gerrity last served as head of the evening cosmetology and barber program at the College of Central Florida in Ocala.

The barber course will run Monday through Thursday, 5:30-9:30 p.m., for 15 weeks, at a cost of $770.56, offered at the Daytona Beach Campus.

With many potential cosmetology students working full time, Gerrity adds, the need for an evening part-time program was also critical. "We're delighted to announce a part-time option for the cosmetology certificate," she says, available with registration for spring semester that starts Jan. 14.

The part-time cosmetology option will run Monday-Friday, 5:30-10:30 p.m. with four blocks to complete in 16 months. Full-time students (offered in day classes) complete the program in 12 months. The full- and part-time cosmetology options are offered at both Daytona Beach and Deltona campuses at less than a third the cost of private cosmetology schools.

Stressing the value of keeping up with technology and style trends in the hair industry, Gerrity notes, "Our faculty teach students the latest hair techniques and coloring, specifically the art of intricate braiding, Ombre hair coloring and Bayalage (freehand highlighting)."

In addition to class and lab time, cosmetology students hone their skills in the aesthetics of hair, skin and nails with salon experience during the program's customer hours offered each semester. To inquire about services and hours, call (386) 506-3319/3460, Daytona Beach Campus, and (386) 789-7347, Deltona Campus.

For enrollment information in barbering or cosmetology, call Admissions, (386) 506-3000.
###