Don't let math-avoidance keep you from college - Daytona State offers free student skills and review sessions for college algebra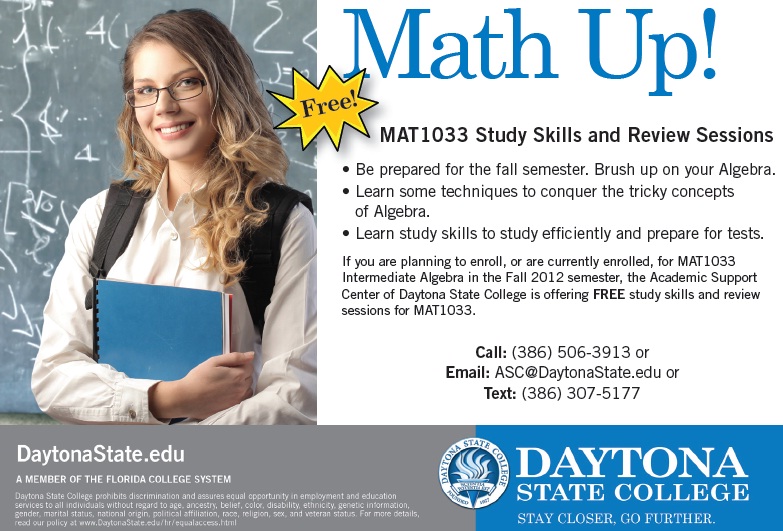 DAYTONA BEACH, FL (July 12, 2012) – There's no avoiding it, if you want a college degree you're going to have to complete at least 6 credit hours of mathematics. For those preparing to take Intermediate Algebra this fall, the Academic Support Center at Daytona State College is offering free study skills and review sessions.

Dedicate two hours per day for four days starting Monday, Aug. 6, and learn techniques to conquer the tricky concepts of algebra. In addition, you'll learn skills to study efficiently and prepare for tests. If you plan to enroll or are currently enrolled in MAT1033 (Intermediate Algebra), then register now with three convenient sessions to choose from: 9-11 a.m., 2-4 p.m. and 5-7 p.m.

MAT1033 Study Skills and Review Sessions take place in the Baker Academic Support Center (Bldg. 500), Rm. 305, on the Daytona Beach Campus located at 1200 W. International Speedway Blvd.

To register or for more information, call (386) 506-3913, email ASC@DaytonaState.edu or text (386) 307-5177.

Be prepared for the fall semester; classes start Aug. 27.
###