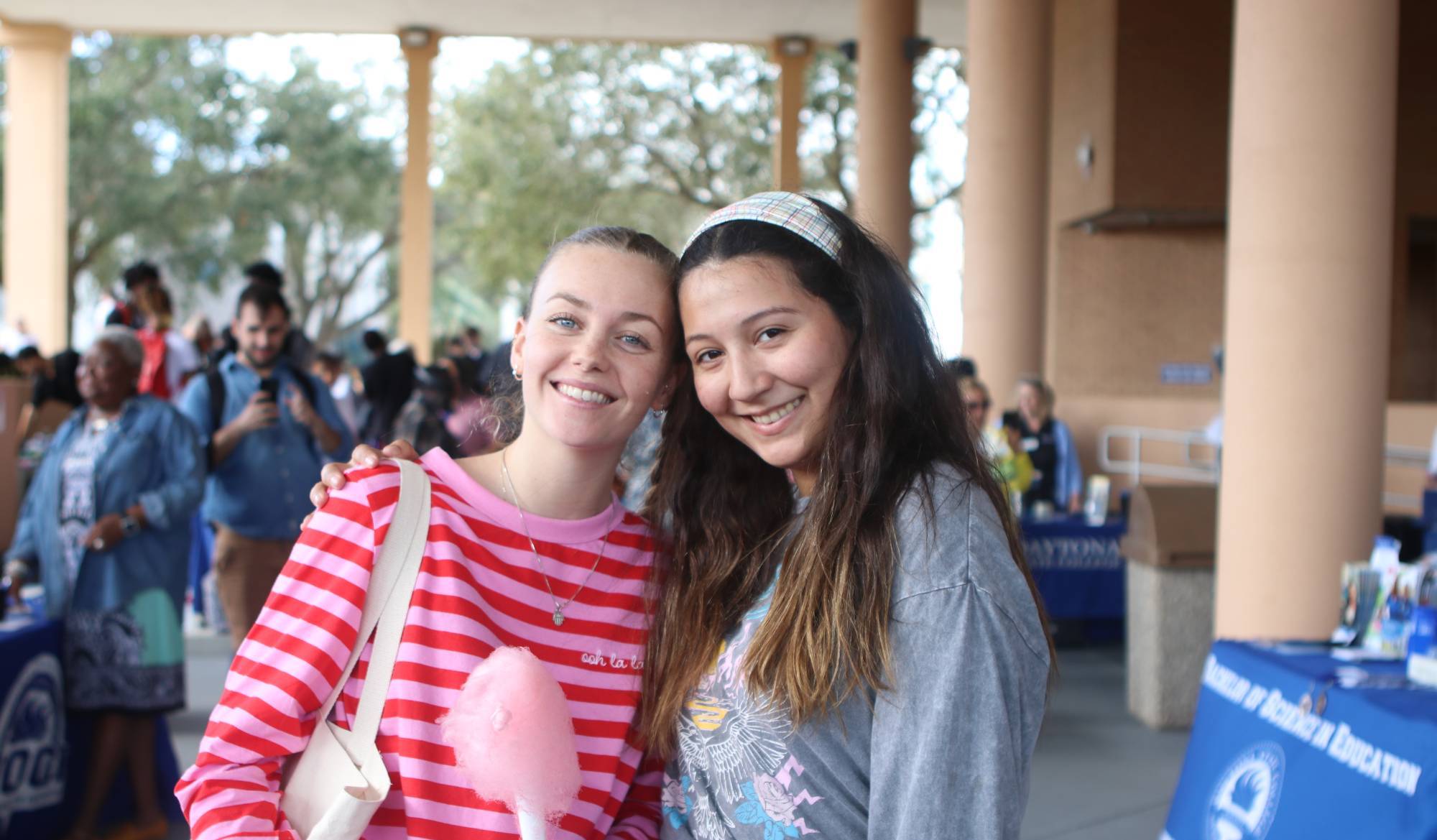 COMPASS: Coaching, Mentoring, Persistence and Student Success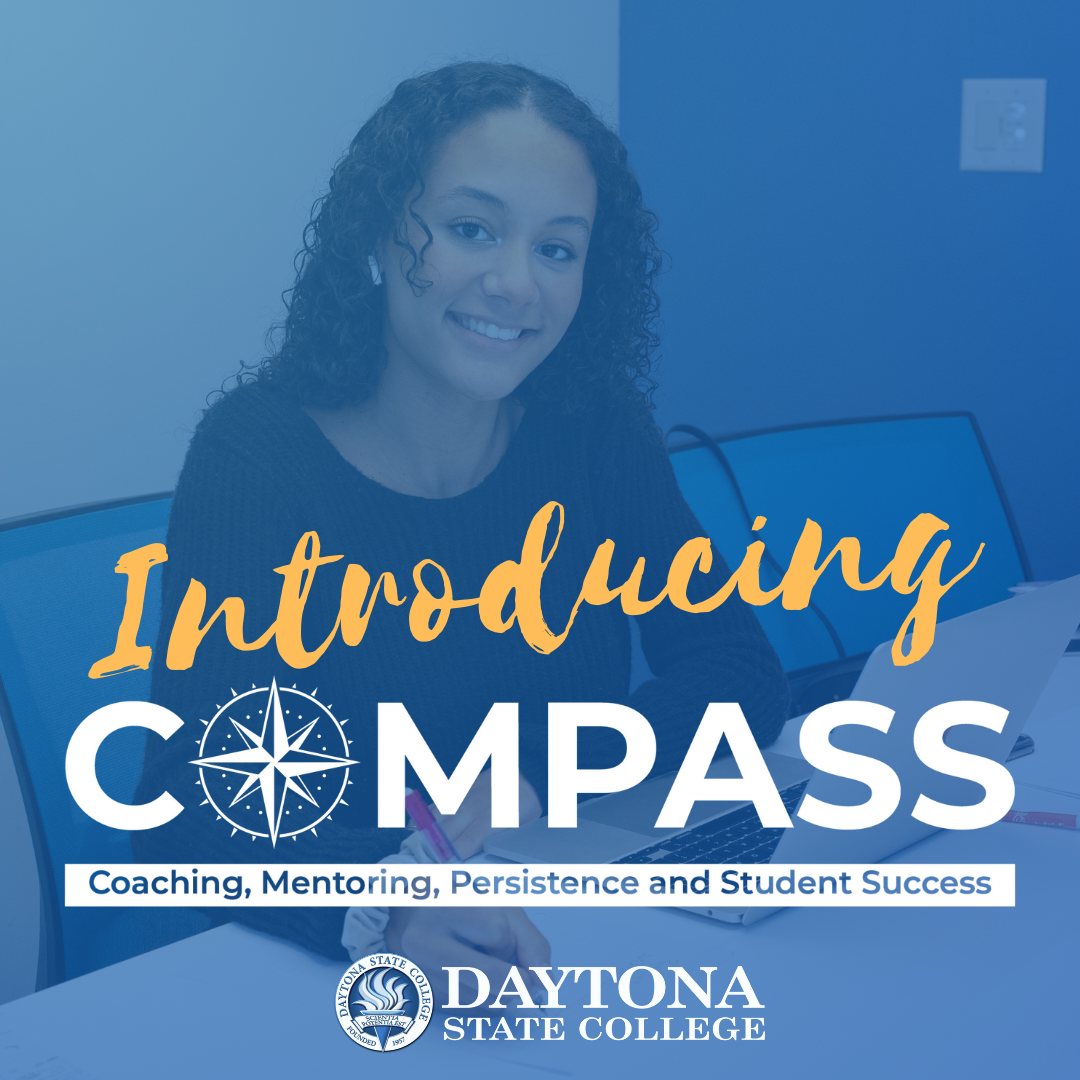 COMPASS is a new program that works with new, first-time-in-college students pursuing Associate of Arts degrees by providing them with academic coaching and mentoring to help them overcome non-academic barriers to success.
COACHING. An Academic Coach provides instruction, encouragement, and support for new students toward their academic goals. With an Academic Coach, applicants and new students can
Discuss values and goals that influence decisions;

Define an academic goal, such as declaring a major or transfer plan;

Find books and computers, improve academic skills;

Navigate financial and personal challenges to improve academic success.
Academic Coaches contact new applicants to help with the enrollment process, and continue to support FTIC students toward completion of their first term and continuing their academic journey. Academic Coaches are part of Enrollment Services.
MENTORING. A Mentor shares wisdom and guidance from personal and professional experiences. With a Mentor, students can
Share struggles and triumphs;

Discuss personal, professional, and cultural development;

Seek advice or encouragement from the experience or reflection of the mentor;

Enjoy a fluid, broad relationship with a role model.
Mentors are part of Student Development and Academic Affairs. Some mentoring activities will be introduced into selected courses Fall 2023, and a Student Mentor Liaison will join the Student Development team to help facilitate future mentoring opportunities at DSC.
PERSISTENCE. Persistence means staying the course when things get challenging. Academic Coaches and Mentors are here to help new students navigate some of the challenges of college life, and to celebrate student strengths in our shared learning community. Academic Coaches and Mentors will
Help students identify their goals and how DSC fits in to those hopes;

Support students with relationship and resources;

Encourage students who apply to enroll and attend, completing their first term;

Motivate students to continue their studies, complete their coursework, and walk the stage at graduation;

Value the contribution that students make at DSC, providing welcoming and safe relationships where students can flourish.
STUDENT SUCCESS. Success is celebrated when we persist and get to our finish line. Students bring their unique motivation and mindset to Daytona State College. Academic Coaches and Mentors provide knowledge and resources, and bring relationships and accountability when students need a little extra! Together, we will celebrate both the academic outcomes of students completing their programs of study AND relationships that matter, where we share a valued and meaningful learning community.
Do you have questions about academic coaching or mentoring? We are here to help. Email COMPASS@DaytonaState.edu.
Daytona State graduate Nick McDonald shares his experience with academic coaching and mentoring.
What is COMPASS?

COMPASS stands for Coaching, Mentoring, Persistence, and Student Success, and is DSC's proposed Quality Enhancement Plan (QEP), which is designed to complement the amazing services already provided to our students. COMPASS is a proactive, personalized program that offers academic coaching and mentoring specifically designed for first-time in college students pursuing Associate of Arts (A.A.) degrees. Its primary objective is to guarantee your academic success by providing tailored support and guidance during your first year of college.

What does an academic coach do?

An academic coach works with first-time in college (FTIC), A.A. degree seeking students to identify what YOU need from DSC to be successful and serve as your point of contact during your first year. They will discuss your goals, potential challenges you may encounter, and connect you to campus resources – we want to make sure you know that we have what you need to be successful in college. We know the first year of college can be overwhelming - we can help you navigate the process of advising, applying for financial aid, approaching difficult assignments or classes, accessing academic support, addressing issues outside of college that may impact your success, and anything else that comes up along the way. You can ask them anything and they will help you find the answer. They are the compass dedicated to helping you be successful here at Daytona State!

Why would I need an academic coach?

It is completely natural that your first experience of college can feel stressful and, sometimes, overwhelming. You are not alone and we're here to help! Academic coaches work with you to navigate the college process and any challenges you may encounter; help you stay motivated and provide ongoing support and accountability throughout your first year – we want you to be confident and successful!

How do students connect with an academic coach?

Academic Coaches will contact first-year, A.A. degree seeking students via phone or email after they have submitted their admissions application. You'll also likely hear about academic coaching from your professors. By making contact early, we can quickly determine how we can make your transition into college as enjoyable and stress-free as possible. And once you're here, we can help with any issues that come up along the way.

How do I sign up for academic coaching?

If you are a first-time in college, Associate of Arts (AA) degree seeking student, an academic coach will contact you by phone or email soon after you apply to Daytona State.

What if I am not a first-time in college, AA-degree-seeking student – who can help me?

Everyone at DSC is available to support you! If you need help and are unsure of where to go, you can always start with an academic advisor, who will help you get to the right place, and depending on your program, you may also have instructors that will serve as advisors and mentors throughout your program. You can contact advising at advising@daytonastate.edu, or by calling 386-506-3661 for help.

Where do I meet with an academic coach?

Academic coaches are available to meet in-person, via Teams, or by phone – we will work around your schedule!

How much does an academic coach cost?

Our service is completely FREE! Our coaches are here to support first-time students in the A.A. degree program be successful and get the most out of their college experience.

What happens after my first year – who will help me?

Once you complete your first year, you will be equipped with all the necessary knowledge to be comfortable navigating the college process, but don't worry – you will still have access to all other supports – academic advising, career services, academic support, and all the other amazing resources you learned about during your first year.

How is an academic coach different from an academic advisor?

The focus of an academic advisor is to assist all students by helping identify a major and courses throughout your time at DSC to ensure you are on track for graduation. An academic coach helps new, first-time in college, AA-degree seeking students after they apply, proactively reaching out to help navigate the college process, and identify academic and non-academic needs to help them get to the next steps of advising and enrollment. The first goal will be identifying what these students need from DSC to be successful and connecting them to those resources early; for example, understanding what type of courses may work best, or how to borrow a laptop to complete coursework or accessing resources in the Falcon Hope Center. A coach may also make a connection to a mentor to help students on their journey to personal and professional growth. In all cases, the support you get will be personalized based on your unique needs with the goal of empowering you to access the resources that will guide you on the path to graduation.

What is a mentor?

A mentor is an individual who provides guidance based on their experiences, knowledge, and expertise. The mentor provides support and feedback to mentees to help them achieve their goals.

How are students connected to mentors?

During the Fall 2023 semester, we are piloting mentoring with students in select sections of Managing Your Success (SLS1122). Using feedback from the pilot, we will develop a Faculty Mentoring Toolkit and expand mentoring activities for future semesters. More information about how students can connect to mentorship in the future will be shared as these opportunities become available.

How is an academic coach different from a mentor?

An academic coach will begin working with first-time in college, A.A. degree seeking students as soon as they apply to the college and provide support and motivation throughout the first year. Depending on their specific goals, a coach may introduce students to a mentor, who can help develop personal and professional growth, sharing wisdom and personal insight through a longer relationship that may last through graduation.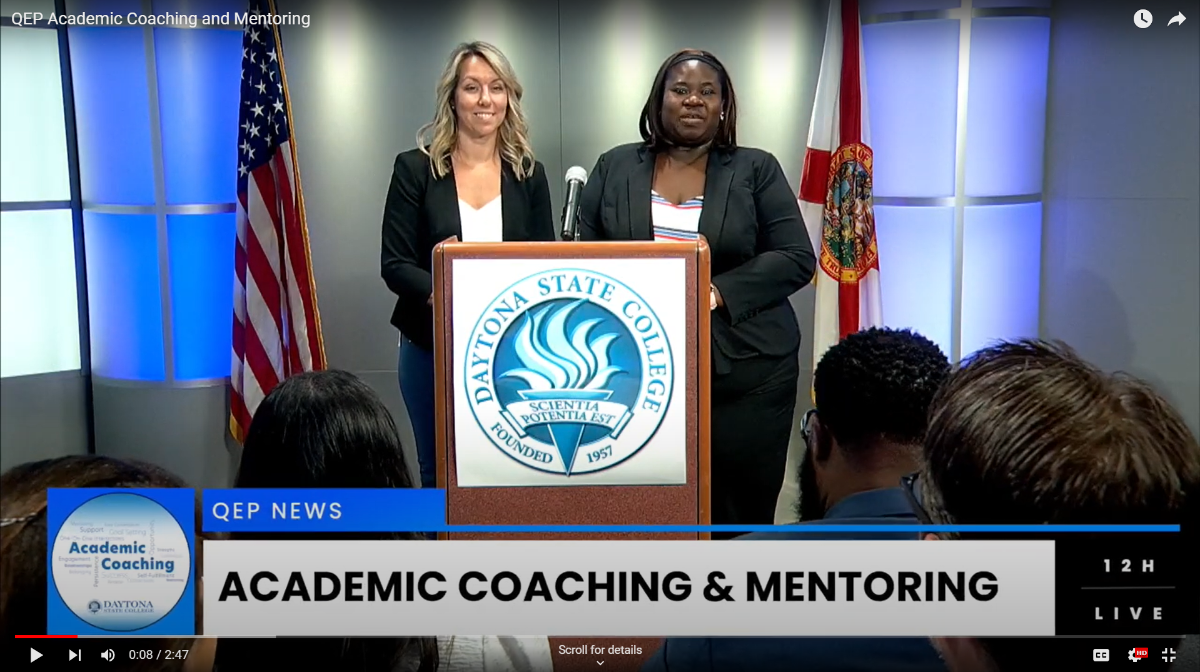 What is Academic Coaching & Mentoring?
Looking for more information?