Wear a mask & get vaccinated!
We recommend that everyone – whether you are vaccinated or unvaccinated – wear a mask and maintain at least 3' of physical distancing when inside any DSC facility.
The COVID-19 vaccine is the most important tool we have to getting the pandemic under control. The CDC recommends that everyone 5 and older receive vaccinations and boosters if eligible. Please note there is no cost for the vaccine and no health insurance is necessary.
General Vaccine Information
Search Vaccines.gov (many retail pharmacies in Volusia and - Flagler counties are now accepting walk-ins with no appointment necessary)
Text your ZIP code to 438829
Call 1-800-232-0233
Data Dashboard - Weekly Positive Cases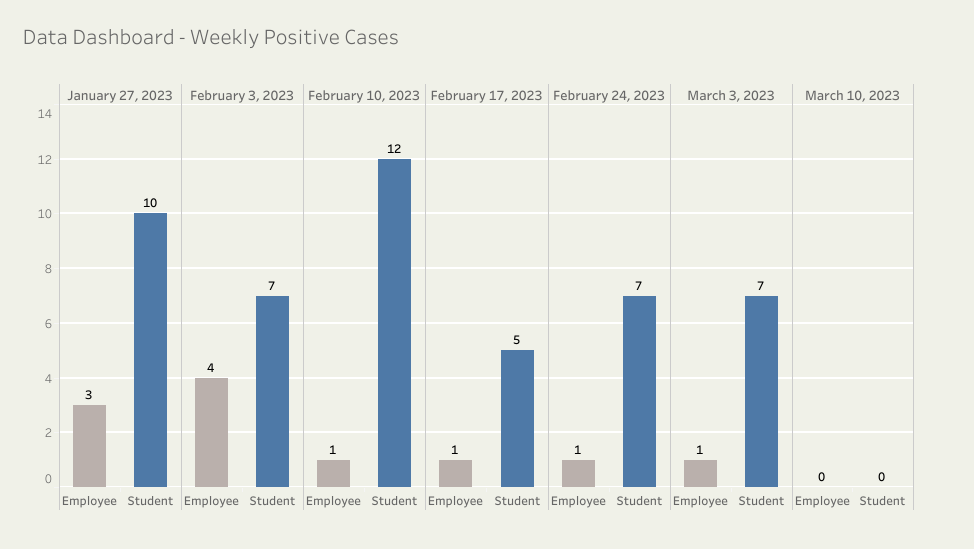 About
The DSC COVID-19 Data Dashboard represents information reported to DSC and may include individuals residing outside Volusia and Flagler counties. The data reflects confirmed cases of individuals tested as well as self-reported cases. The Florida Department of Health is the official health data collection agency. Dashboard data is updated each Friday by 2 p.m. (positive cases reported from the previous Friday through Thursday).
Definitions
Positive Cases - Individuals who have received and reported positive COVID-19 test results. Cases are resolved/cleared within 10 days after the positive test per CDC Time-Based Strategy.
Student FAQ
Student COVID Resources
If you are sick or not feeling well, or showing any signs of symptoms, please do not come to campus and email
COVIDhealth@DaytonaState.edu
immediately.
Employee FAQ
Employee COVID Resources
Faculty and staff are encouraged to check for regular updates which include resources such as COVID-19 and the American Workplace, the DSC EAP/Employee Assistance Program, Mental Health/Well-Being, and Staying Active/Staying Healthy.
Emergency Financial Aid Grant
The Emergency Financial Aid Grant is for students with exceptional need still experiencing impacts from the COVID-19 pandemic. Students with a documented COVID related hardship are also eligible to apply.
Daytona State College has received funds under the Coronavirus Response and Relief Supplemental Appropriations Act (CRRSAA) signed on December 27, 2020 to assist some of our students still being impacted by the COVID-19 pandemic. However, unlike the original CARES Act, there are new eligibility requirements - see more here.
---
Campus Information
We recommend that everyone – whether you are vaccinated or unvaccinated – wear a mask and maintain at least 3' of physical distancing when inside any DSC facility.
All of our campuses are open. Students and visitors can make appointments with departments on campus. Please call the department directly or the main line at (386) 506-3000.
You may also conduct business with the College via email, phone or Live Chat.
The Bookstore and Credit Union are open.
The Dining Hall and Mori's Cafe' (L. Gale Lemerand Student Center, Daytona Beach Campus), and the ATC Campus Cafe' (Advanced Technology College) are open with inside and outside seating.
DSC officials are monitoring outbound and inbound travel for international students. At this time, there are no study abroad trips planned. Please see the CDC's Information for Travel for updated information, travel warnings, and travel FAQs.
---
Monoclonal Antibody Therapy Clinic at DSC's Flagler/Palm Coast Campus is Closed
Please visit the Florida Department of Health for more information and to find other clinic locations.