MOCI Program Cohort Celebrates Rite of Passage at Daytona State College
The program supports students from underserved populations, helping them attend and graduate from college.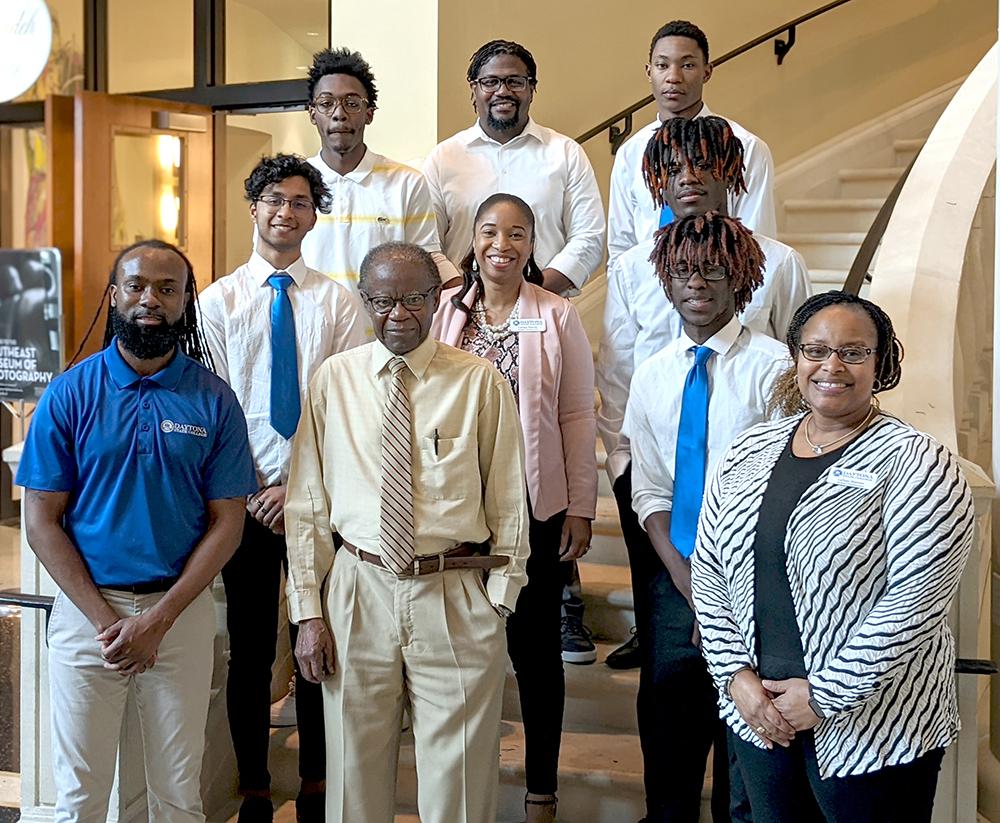 Members of the MOCI cohort stand with Daytona State faculty and staff members Enaris Inman (front left), Job Clement (front center), LaToya Shannon (front right) and Cerese Ramos (center) during their Rite of Passage at the Mori Hosseini Center on Wednesday.
DAYTONA BEACH, FLA. (December 15, 2022) – A cohort of students participating in Daytona State College's MOCI program were honored Wednesday at a Rite of Passage ceremony at the Mori Hosseini Center on the Daytona Beach Campus. The program has existed for several years, but this is the first time a cohort of students took classes together as they progressed through the program.
MOCI is a program overseen by Daytona State's Office of Student Development to increase the number of students from under-represented populations attending and graduating from college. The program offers cultural enrichment, life skills development and academic preparation for students attending Daytona State. Participants are supported by MOCI mentors, who help them achieve their goals throughout the year.
"We are tremendously proud of these students and look forward to the contributions they will be making to our communities and the world at large," said Daytona State College President Tom LoBasso. "We're excited about this program and the value it brings to everyone involved."
The program emphasizes four key values: Excellence – Achieved through words and deeds; Self-Awareness – Developed through reflection; Self-Respect – Earned through words and actions; and Pride – Demonstrated through behavior.
Members of the first graduating class are:
- Maliak Jakell Brunson
- Joshua James Crayton
- Mario Jose Cuadrado-Diaz
- Jerry Daniels III
-Travius Markell Davis
- Tyler Marques Freeze
- Mathias Gentry
- Jeremie Albert Guerrier
- Ayden Harris
- Tharell Van Lewis II
- Oni Ashoma Lobban
- Aaron Manning
- Keshawn Duece Mobley
- Jahcorey Robert Rahaman
- Mahi Rahman
- Madden Joseph Santiago
- Sinsear Rich Small
- Joshua Stennett
- Maxwell Reese Strickland
The Rite of Passage ceremony honors the graduates, their families, mentors, staff, faculty, fellow students, and friends.
# # #
Offering more than 100 certificate, associate and bachelor's degree programs, Daytona State College is the leader in education and workforce training needs of Volusia and Flagler counties and beyond for more than 60 years. The College enrolls approximately 23,000 students a year at its seven campuses, with graduates serving in critical fields including healthcare, emergency services and public safety, business, education, hospitality, engineering, technology, digital media, and more.
Daytona State has been recognized as a leader in higher education numerous times. U.S. News & World Report ranks the College among the Top Tier Best Online Bachelor's Programs. The U.S. Department of Education's College Affordability and Transparency Center ranks DSC among the top 50 most affordable public four-year institutions in the country, with less than half the tuition of the national average. Community College Week, a leading publication in higher education, annually features Daytona State in its list of Top 100 Associate Degree Producers. And U.S. News & World Report has ranked DSC among its Top Online Bachelor's Programs for Veterans multiple times.